A New Way to Make Trade Show Displays Sustainable, More Flexible, Portable, and Affordable in 2022
March 22 , 2022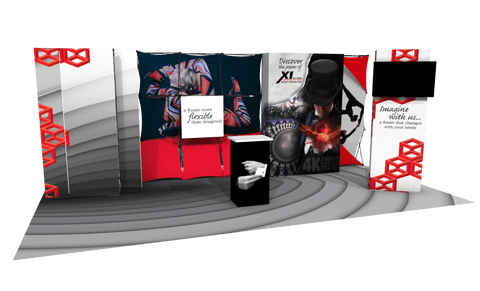 Recently one of Intermedia Print Solutions' partners received a U.S. Patent for a sustainable trade show display product. The display's innovative modular design makes it a convenient, affordable, and environmentally responsible solution for event exhibitors.
Exhibit design customization reduces cost and materials waste
Trade show exhibitors often want to change the graphics in their displays from one event to another. Yet these changes can be expensive when each design format is structured with a unique framing system. We have historically heard this complaint from our display customers in Princeton, NJ, and the greater New York/Philadelphia region.
So our partner design team custom-engineered a new display structure. They designed an adapter plate for the existing framing system that would accept silicone edge graphics (SEG), other dye sublimation fabric, and Velcro-attached graphic options. With this new design solution, an exhibitor can now reuse and repurpose a display's existing framing components with new customized visual graphics.
This is great news for companies exhibiting at trade shows and events to showcase and launch products, increase brand awareness, drive sales, and promote customer engagement. Industry reports show that trade shows and events are still "one of the most profitable business-to-business media strategies." US trade shows are rebounding. Since the industry's Covid-induced low revenue of $5.56 billion in 2020, the projected value is forecast to increase to $14.5 billion by 2024.
Marketers Getting Back to Trade Shows in 2022
In March 2022, the Back to Normal Index showed that the U.S. was at 94% of March 2020 pre-pandemic economic activity. In 2019, there was an average of 28.6 regional trade shows and 16.9 national trade shows. In 2020, 7.8 regional shows and 5.9 national shows.
Today, optimism is high. Projections for 2022 U.S. Trade show revenue is $11.2 billion, which is double the 2020 value.
If trade shows, conferences, meetings, and events are part of your company's marketing strategy, now is the time to plan for every aspect of your strategy, brand, design, printing, and signage needs. Consider planning and ordering now for:
 Booth design and development
 Marketing collateral, brochures, and product marketing materials
 Promotional giveaways
 Branded apparel for your event's customer facing staff
How the new patented modular display system can help your brand
"Future proof" your investment in trade show and event materials, so displays can be updated at a much lower cost as technologies and brand messages change over time.
Achieve the look of expensive "hard-built" trade show fixtures for the price of a pop-up display system.
Portability. The entire trade show displays can be checked as ordinary luggage, set up and dismantled by the sales team traveling to a show with no tools or costly labor necessary.
Let Intermedia Print Solutions customize the graphics of your exhibit structure
Intermedia Print Solutions can print, fit, and finish the fabric graphics for just about any frame you have. Our dye-sublimation 4K Print Technology is as beautiful as you will find on the market.
We repurpose some of the most popular silicone edge graphics (SEG) frames, extrusions, and kits from manufacturers such as Classic, Nomadic, Agam, Octanorm, Aluvision, BeMatrix, and more.