How to Choose the Best Printing Company in New Jersey
April 26 , 2022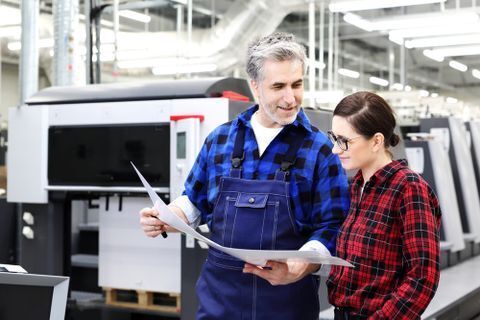 Choosing the best printing company in New Jersey to work with is critical when you need your job done right. If you work in one of New Jersey's 800,00+ businesses, you're likely to need printing services. Whether it's marketing materials like business cards, signage, or posters, or books or product packaging to carry your branding, print is vital to your brand. 
Since your printed product will deliver your brand and message to the public, it is essential to partner with the right printing company in New Jersey. This means taking in all the necessary factors to help you identify which company can best meet your needs. If you aren't careful, you may not get the printed products you want.
Tips for Choosing the Best Printing Company in New Jersey
Whether your business is in Princeton or other parts of New Jersey, here are some tips to help you determine which printing company is the right choice for your brand. 
1. Review the quality of work
The first step in knowing if a printing company will meet your needs and expectations is to see the quality of their work. Ask for samples of their previous jobs and read their customer case studies on their website or social media pages. Consider asking for a meeting with their sales representative to look at samples so you can get a feel for the material and quality of work.
2. Ask what printing technology they use
Analog printing technologies like lithography, flexography, and gravure are generally better for high-speed, high-volume printing. Digital printing technologies like inkjet, toner, HP Indigo, and Landa offer personalization, customization, and versioning capabilities in both shorter and longer run lengths.
3. Check if they offer all types of printing formats
Do they offer 3D printing? How about wide format printing? What width and format can they produce? Do they have a bindery for books, catalogs, and magazines?
Marketing materials can come in different forms, so before choosing your printing company, make sure they have the options you need.
Packaging printing: This could include folding cartons, flexible packaging, shrink sleeves, or even glass or plastic product packaging.
Label printing: Pressure sensitive prime labels are typically of higher quality, with the ability to add embellishments like foil, embossing, or other dimensional texture.
Large format printing: Also called wide format printing, this category includes applications like signs, banners, displays, and wall decor.
Publication printing: This category includes applications like books, booklets, catalogs, magazines, and newspapers.
4. Check if they offer full finishing and design services
The best printing companies in New Jersey offer additional services to help you create your final product faster. You may want to consider these additional services beyond printing:
Cutting, trimming, slitting, scoring, custom die-cutting, and binding These post-print services finish your products and prepare them for immediate use by your end user.
Sequential numbering and barcode printing This type of service prints your media in a sequence to help indicate sets in ascending or descending order or unique product coding.
Full-service graphic design Your printing company may take over the graphic design tasks to minimize the risks of misprints and other mistakes.
5. Check to see if they have other print facilities outside New Jersey
Sometimes you may have an event or project thousands of miles away from New Jersey. Does your print supplier have multiple locations to reduce shipping costs and time?
6. Pay attention to customer service
Customer service plays a major role in any business. If your partner printing company in New Jersey doesn't know how to communicate effectively, problems may arise, affecting the final prints and wasting time, resources, and materials.
7. Compare prices
Different print companies have varying price ranges, but the most expensive one does not necessarily guarantee the best quality. Before you hire your print service, make sure that you establish each factor that goes into the final price of the work. This can help you gauge the real value you're getting and how it fares to other companies' prices.
8. Check for reviews and reputation
One of the best ways to know if a printing company has good service is to check the reviews left by previous or current clients. This shows how reliable and credible a print service is before you partner with them. It can also give you better peace of mind knowing what you can expect.
Find the Print Supplier That Best Suits Your Style
Businesses in New Jersey have many options when it comes to printing services. Do your research in advance. If you want a company that can meet your printing needs in New Jersey, get a quote from Intermedia Print Solutions. This company has decades of print experience, it offers a wide range of analog and digital technologies, and treats its customers like partners.