Top 3D Printing Trends & Statistics for Businesses
May 17 , 2022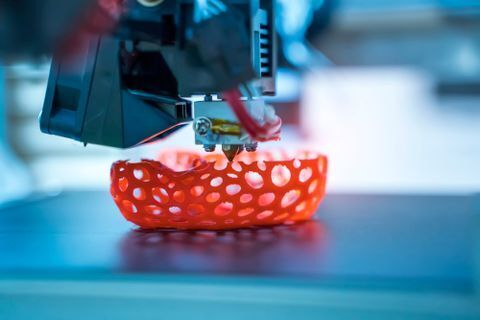 The pandemic had severe consequences on people's health and processes. According to the Association for Supply Chain Management, 63% of organizations felt that the disruptions caused by the COVID-19 outbreak were major. 
In times like these, it's no wonder why businesses opt for more robust solutions to their manufacturing problems. This is where additive manufacturing enters the story, better known as "3D printing." It's cheaper, more efficient, and less wasteful—and it will be the future of manufacturing.
The 3D printing market was valued at $10 billion in 2019; experts expect it to be crucial to a company's production process in the next decade. 
With more and more companies turning to additive manufacturing, staying up to date on the latest 3D printing trends can help you get ahead of your competitors and spot new business opportunities. Below are six 3D printing industry trends to keep an eye out for. 
3D Printing Industry Trends
1. The surge of more 3D printing materials
One of the reasons 3D printing is becoming popular is that people are finding more materials to use for printing. In a 2021 3D printing market report, it was found that plastics and polymers were still being used by the large majority of respondents, reaching 90%.
However, other materials were gaining popularity, with composites the second most used, followed by metals, ceramics, and glass.
2. Sustainability 
With climate change being one of the top three issues consumers feel brands should address, the efficiency of using 3D can make a compelling solution for fighting environmental crises, according to a Forrester report.
3D printing can significantly reduce the energy needed to manufacture. Typically, when products are manufactured, they are cut down from a larger material, which is known as computerized numerical control (CNC) machining. But since 3D printing only produces what you need and is placed in your computer, you can generate less waste and reduce manufacturing energy use.  
So, if your business is looking to adopt more sustainable practices, 3D printing may be a viable option for you.
3. Large-format 3D printing
3D printing doesn't stop at miniature statues or small but necessary machine parts, as it can handle big projects, too.
As new possibilities of 3D printing continue to be discovered, large-scale projects have become one of the many industry interests.
For instance, the team at Camosun Innovates from Camosun College partnered with Cetacea Contracting Ltd. to 3D-print exact replicas of whale bone to assist institutions worldwide in getting a closer look at the skeletal structures of large animals.
You can find another instance of large-format 3D printing above the OZ Achterburgwal Canal in the heart of Amsterdam. Dutch designer Joris Laarman and his team spent 18 months designing, printing, installing, and testing the MX3D Bridge.
4. Faster parts delivery
One of the leading benefits of 3D printing continues to be how fast parts are printed and delivered. While regular parts traditionally need to be molded or machined first, through 3D printing, companies can print them within mere hours.
With how fast-paced industries and markets are moving, speed is of absolute necessity to companies who want to get ahead of their competitors. More companies are turning to 3D printing to quickly produce and manufacture parts and technologies through computer-aided design (CAD) in what's known as Rapid Prototyping.
The aerospace industry, for instance, has turned to additive manufacturing, with 72% of its prototypes produced through 3D printing. 
The efficiency and convenience of 3D printing allow companies to unleash their creativity and test their ideas at attractively lower costs.  
5. Customization
One size doesn't fit all, and the great thing about the 3D printing technology is that there are types of 3D printers for different customization needs.
The seven different types of 3D printers:
Fused deposition modeling (FDM):  FDM printers easily 3D print solid objects by extruding thermoplastic materials through a nozzle tip. Research and development sectors have extensively used this type of 3D printer to develop new materials and solve engineering problems. 
Stereolithography (SLA): To 3D print accurate prototypes, stereolithographic printing involves a computer-controlled moving laser that engineers have pre-programmed through CAD software.
Digital Light Processing (DLP): DLP printers use a projected light source that prints and cures photopolymer parts and objects with intricate designs quickly.
Selective Laser Sintering (SLS): SLS printers powerfully heats powder polymer, metal, or resin using a laser to create solid objects for prototyping or mock-ups.
Selective laser melting (SLM): SLM printers use a high-powered laser to melt metal powder such as aluminum and copper so that it completely fuses with other parts, creating a sturdy structure.
Laminated object manufacturing (LOM): With LOM 3D printers, manufacturers have the flexibility to quickly print solid or hollow objects or parts that can support itself thanks to the laminated material used.
Digital Beam Melting (EBM): Digital or Electronic Beam Melting (EBM) is commonly used to 3D print various parts used for aerospace, automotive, and medical purposes. Because of its electron beam, it's also used for drilling, engraving, and cutting materials. 
With the opportunities to customize, companies are allowed to stay nimble, adapting and shifting to their consumers' needs in little time. It also reduces cost, which is why 55% of manufacturers choose to use 3D printing. 
6. Design Optimization
With all the power that 3D printing can provide, companies are learning how to use it to print not simply anything but better things. They can improve the parts they already manufacture without spending on reproducing them in the real world. 
Instead of spending time and effort stress testing parts, that entire process can be done through software. Engineers can test their designs through a computer where data can show the weak and strong parts. This process is called topology optimization. 
Once they've optimized the design, they can print it—it's essentially one and done. Imagine if the first part your company produces is already the tested, final version. That would save you hours of grueling trial-and-error work.
Wrapping Up
3D printing is shaping up to be one of the most important technologies of the future. The degree of customization, optimization, and efficiency companies can achieve through 3D printing is a dream come true.
Now can be an opportune time to take advantage of the 3D printing industry trends to get ahead of the competition. 
If you're looking for 3D printing services in Princeton, you're in the right place. Click here to get a cost estimate from Intermedia Print Solutions, ready to provide all your 3D printing needs in or outside of New Jersey.