Need 200 embroidered bags or 25 million printed inserts? We love to accept supply chain challenges!
January 4 , 2022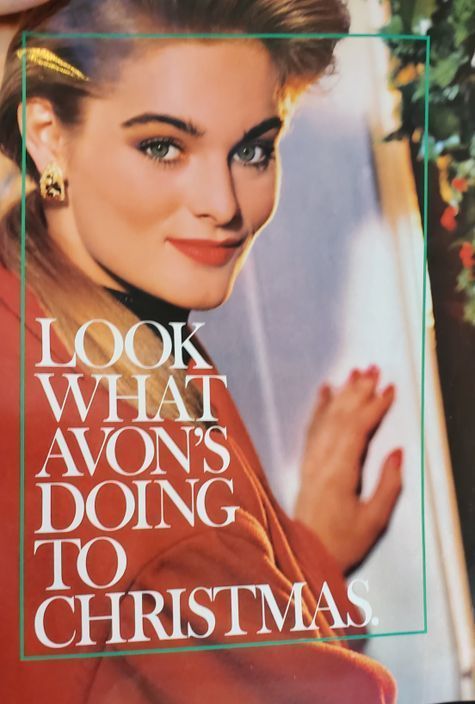 As a print, mail, and promotional solutions company, we accept challenging projects from entrepreneurial start-ups and large corporations from Princeton to New York to Philadelphia and beyond. As one example, during a major paper shortage, we found a way to acquire enough 50# coated gloss text to print 25 million 4-page magazine inserts for Avon Products.
Recently, as I walked into Princeton Fitness and Wellness for a beginners' yoga class, I saw an entrepreneur at a display table showing a heather grey convertible sling bag made of recycled plastic bottles. I was curious and asked, "Wouldn't your bag make a great promotional item if embroidered? And, "How did you come up with the convertible concept?"
Tushar Desai, the crowdfunded founder and the eco-friendly bag's chief designer said he "started Cool Dude Choice as a side hustle" with a "mission to be part of the sustainability movement."  Tushar loves to travel so overloaded baggage is a common problem: "I had to pay a tremendous amount of extra baggage charges. So that's when I started thinking: I already have my sling bag. If I can expand it to make it a duffel, then I can keep my extra clothing there."
A few months later, Tushar called to say he had a potential order for 200 bags and that his customer wanted them embroidered. 
Intermedia Print Solutions' mission is to help clients with what they need in the printing, packaging, signage, and promotional products space, and use eco-friendly materials. Because we suggested embroidery as a value-added branding idea to Tushar, we took up the challenge to find the solution. 
However, none of our usual embroidery partners, nor several others we contacted in the $860.9M (2021) commercial embroidery services industry could embroider the bag. That's because the 4" x 5"x 2" double-sided pocket simply doesn't fit on their equipment. We also looked into making the bag locally because Tushar ultimately hopes to manufacture the eco-friendly bag in the USA. The cost, however, is approximately three to four times more than from overseas sources.
So we looked deeper into the $473M (2020) embroidery machine equipment market and located the right partner. In our first test, we embroidered the Cool Dude Choice logo on the tight front pocket primarily with a simple straight stitch and a blue thread.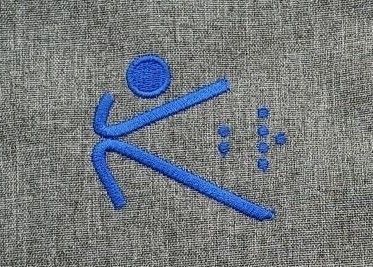 However, there are many variations on straight stitches, satin stitches, and fill stitches that can be used to create all sorts of special woven, shadowing, and dimensional embroidery effects with a single thread. As the late Milton Glaser said, "There are three responses to a piece of design – yes, no and wow. WOW! Is the one to aim for."
We look to help clients attain that response. For our second test, we plan to embroider a more complex design such as the design by Erich Campbell below: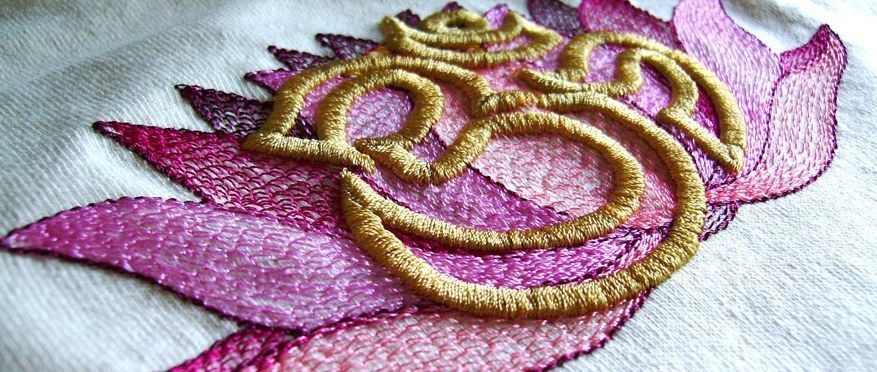 The Cool Dude Choice can be embroidered simply with a company logo and perhaps the design above. It can be used in a variety of ways. The bag's chief designer comments that it's "perfectly suitable for everyday outdoor activities such as cycling, weekend traveling, and for day trips to the parks. It has all the features of a typical sling along with a duffel bag."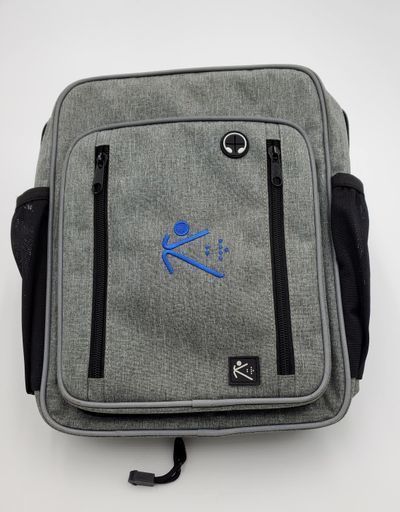 "It can also be converted on the fly with a few easy maneuvers:, says Tushar: Chromebook, a 13" laptop, an iPad, or a few books. It comes with multiple pockets to keep cash, your wallet, or your phone."
"If you want to travel, you can make it a duffel bag" expanding it to a spacious 13" x 16". Still, it can fit under the seat and be used as a personal item while flying." The detachable strap can be adjusted to secure  "a yoga mat or tripod camera stand," he continues. "The purpose is that you have one bag and multiple styles and functions.  You are saving space and minimizing your environmental impact."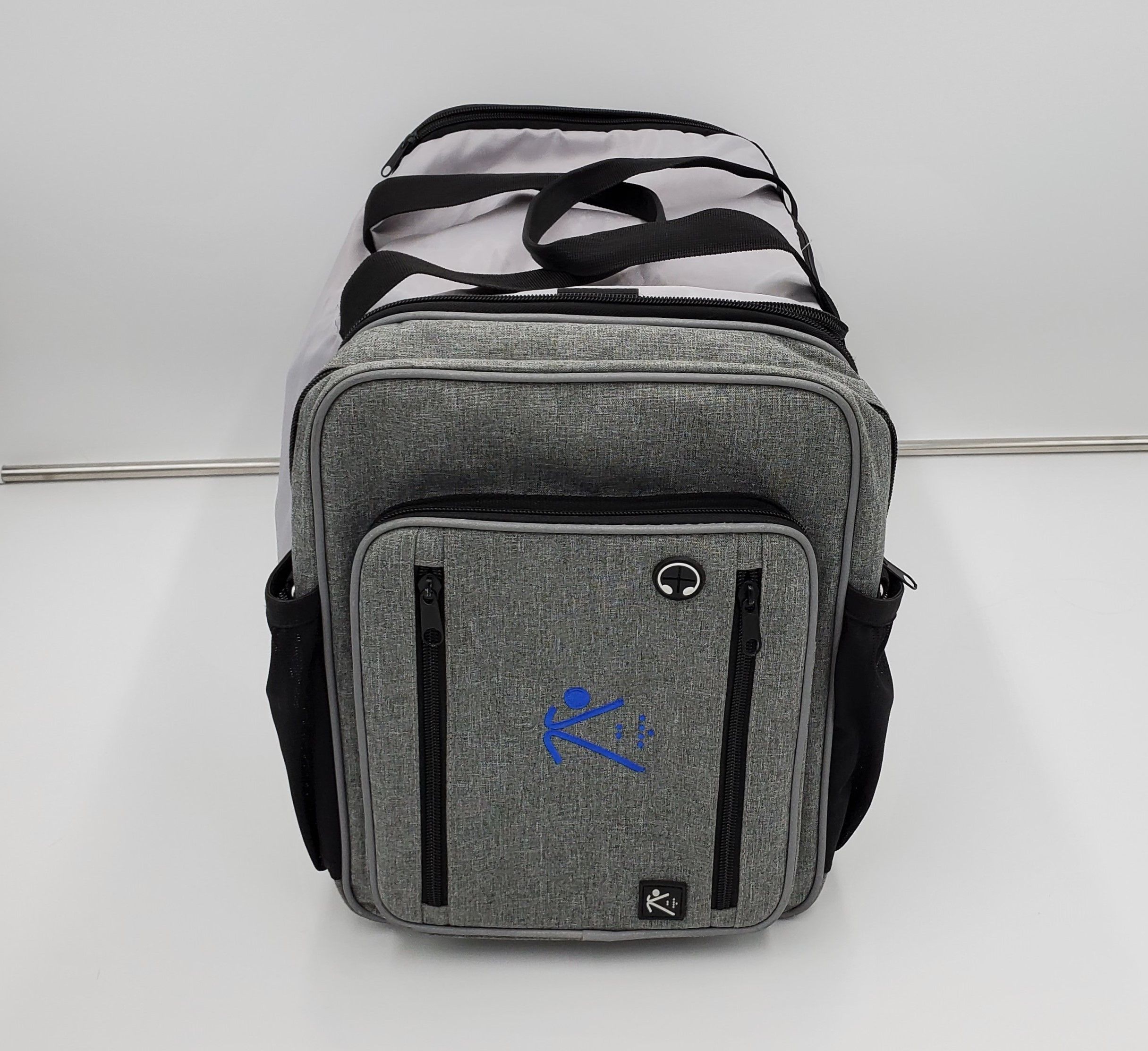 "There are so many plastic bottles going into the ocean," Tushar says. His bag uses 10 discarded and recycled plastic bottles to make the eco-friendly fabric and "strong durable 400 D Nylon to create the spacious duffel."