What is Large Format Printing: Types and Advancements
November 20, 2023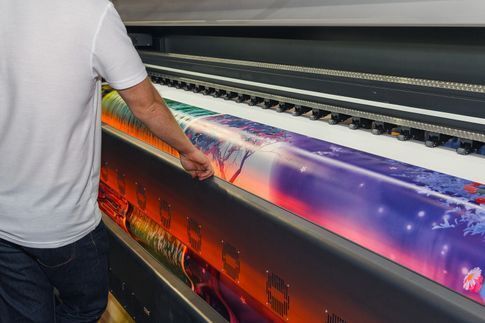 In today's visually-driven world, screens, posters, and wallpapers surround us. Visual impact is crucial and can significantly influence a brand's success. With this, large format printing (LFP) has emerged as a game-changer, empowering brands to stand out.
What is large format digital printing, you say? If you've ever walked past a stunning billboard that instantly captured your attention, you've likely encountered one.
However, it finds applications in various domains, from eye-catching advertisements to breathtaking murals. According to studies, print advertising recall, particularly large format, has considerably increased over the past decade. 
In this article, we'll explore various types of large format printing, unravel the latest technological advancements like augmented reality and interactivity, and discover how to harness its full potential for maximum impact.
What is Large Format Printing?
Large format printing produces visuals on a significantly larger scale than standard printing technologies. It allows businesses to create stunning graphics, posters, banners, and other visual materials with eye-catching detail and vividness.
How LFP works
LFP begins with digital files containing designs and artwork, which are meticulously prepared to meet size and layout specifications.

Next, specialized large format printers, equipped with advanced printing technologies like inkjet or UV printing, apply ink precisely to chosen print media.

Lastly, careful color management ensures vibrant, accurate hues. The result is a high-quality, large-scale print that transforms blank spaces into captivating visuals with vivid detail.
Applications of LFP
You may think that billboards make up the entire application of LFP, but in reality, you can use it for so much more. Here are some of the applications of LFP: 
You can utilize it for outdoor signage like billboards, storefront banners, and promotional posters.
You could also use it indoors through wall graphics, murals, and floor graphics in weddings, retail stores, offices, museums, and homes.
It also extends to vehicle wraps, turning vehicles into mobile advertisements.
It's an invaluable tool for fine art reproduction, allowing artists and galleries to faithfully reproduce artwork.
The fashion and interior design industries also employ it to print custom fabrics for upholstery and clothing.
5 Types of Large Format Printing
From eye-catching outdoor signage to immersive indoor graphics, each type brings its unique strengths and creative possibilities. This section explores the diverse applications and techniques that fall under the expansive umbrella of LFP.
1. UV-based 
UV-based LFP utilizes ultraviolet light to instantly cure inks, resulting in vivid and durable prints. Its versatility extends to various surfaces, including paper, canvas, glass, and acrylic, making it perfect for creating indoor and outdoor signage, point-of-purchase displays, and promotional materials. 
UV-based printing is exceptionally eco-friendly, as it is 99.5% free of volatile organic compounds (VOCs), unlike conventional ink.
2. Dye sublimation
Dye sublimation uses heat to transfer dye onto materials like fabric and ceramics, yielding vibrant and durable prints. This method creates photographic-quality images with smooth gradients and sharp details, making it a perfect choice for custom apparel, soft signage, and promotional items.
Many in the fashion industry use this type of printing for personalized clothing and merchandise. Examples include sports teams offering customized jerseys and businesses creating branded promotional products.
3. Solvent
Solvent printing uses solvent-based inks that adhere well to various media, including vinyl, for outdoor applications. Solvent prints are resistant to UV rays, water, and physical wear and tear, making them suitable for outdoor signage, vehicle wraps, and banners.
The automotive industry frequently utilizes solvent printing for vehicle graphics that withstand harsh weather conditions.
4. Latex printing
Latex printing utilizes water-based latex inks that are eco-friendly and produce high-quality prints. It suits indoor and outdoor uses on a diverse range of substrates in terms of both color and material. Moreover, latex inks offer fast drying times and quick production turnaround. 
They adhere well to various media, including paper, vinyl, and textiles, making them well-suited for wall graphics, vehicle wraps, and backlit displays.
5. Aqueous printing
Using water-based inks, aqueous inkjet printing offers precise detail and easy maintenance. It's a top choice for large-format printing, suitable for indoor and outdoor applications. Aqueous printing excels in intricate tasks like large-format photography, trade show materials, and projects demanding meticulous image quality.
3 Advancements in Large Format Printing 
Advancements are driving innovation and redefining the boundaries of visual communication. This section explores the latest breakthroughs and technologies propelling LFP into the future.
1. Toward digital printing
Digital printing marks a new era of creativity and efficiency. A key advantage is its cost-effectiveness for short-run and on-demand projects, saving time and resources by eliminating the need for large print runs. Additionally, it minimizes waste and employs eco-friendly inks and materials.
The versatility of digital printing allows customization and personalization for unique designs, messaging, or variable data. It's a go-to choice for businesses aiming to make a lasting impact while optimizing costs and ensuring signage longevity in different weather conditions.
2. Sustainable printing
Many large format printers now use eco-friendly inks and materials, reducing their carbon footprint. Additionally, some companies have embraced the "green" LFP concept, utilizing eco-solvent inks and PVC-free substrates for banners and signage.
Sustainability is a responsible choice and resonates with environmentally-conscious consumers, creating a positive brand image.
3. Augmented reality (AR)
LFP plays a crucial role in AR by enabling interactive experiences through traditional outdoor advertising materials and signage. As mobile devices can quickly identify and engage with printed content, marketers increasingly incorporate WebAR (Web-based AR) into large format print materials.
Maximize Visual Impact with Large Format Printing
In a world that thrives on visual communication, large format printing has emerged as a valuable tool to amplify business impact across industries. You've discovered the essence of LFP, its diverse types, and the cutting-edge advancements revolutionizing this field.
From captivating billboards dominating city skylines to immersive wall graphics redefining spaces, large format printing bridges imagination and reality.

As the visual marketing landscape evolves, don't miss the opportunity to leverage its potential. Transform your printing capabilities with Intermedia Print Solutions! We have various printing products available for any industry. Let your brand's story come alive in larger-than-life dimensions.
It allows diverse interactive experiences, such as way finders, engaging event banners, and real estate signage, offering access to interactive videos and 3D floor plans for upcoming developments.