Hot Mugs /Cool Water Bottles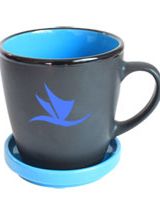 COOL CERAMIC MUGS from the team at Intermedia Print Solutions, Princeton, New Jersey, come in many shapes and sizes with one color deep etched icon to full color prints, depending on the style. You can create a custom message with a logo. Perfect give away at trade shows and marketing events for all industries from travel and transportation, to education and Universities. The cup shown rests on a dual purpose lid-and-coaster-in-one.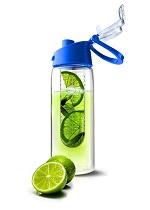 FRUIT INFUSER WATER BOTTLES - hot new drinkware is made of revolutionary high tech material that is impact resistent, imprintable, and 100% BPA FREE! Bottle comes without any fruit, so you can add your own favorites, of course.
Hundreds of high quality drinkware, travel mugs, sports bottles, hydration bottles and glassware to choose from.