Digital Printing in Packaging: Advantages and Current Trends
June 12, 2023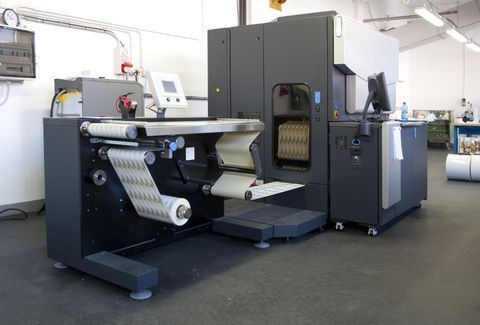 Digital printing allows printers to print ink directly onto the media substrate, whether paper, plastic, or fabric. It has become one of the largest trends in printing, with experts forecasting the digital printing packaging industry to reach $28 billion by 2024.
One of the reasons digital printing has become so popular is that it's much more sustainable than other types of printing. It doesn't require additional materials like printing plates, which means less waste and fewer resources needed. Additionally, digital printing is ideal for short product runs, reducing inventory waste.
This aspect can greatly appeal to the growing number of customers interested in caring for the environment.
This article explores the advantages of digital printing and the digital printing industry trends to watch.
Advantages of Digital Printing in Packaging
The benefits of digital printing include its cost-effectiveness, quick turnaround time compared to other methods, and easy customization of printed materials. Digital printing could be right for your brand.
1. Cost-effective
The setup process for digital printing in packaging is much simpler than other printing methods since all it takes is a computer and a digital printer.
Traditional printing methods include customizing physical printing plates, which can add to the cost of your order. It also makes it expensive to reprint materials since you'll have to spend to create another printing plate to fit your new order. 
2. Faster turnaround time
Other printing methods' turnaround time, such as for flexography or lithography, can take days or  weeks. depending on the order size. However, digital printing may only take hours or a few days. The quick turnaround time also makes digital printing ideal for prototyping and short runs. 
For instance, suppose you have three different packaging label designs for your product, but you can't settle on one. Digital printers can provide materials quickly to allow you to see what the final output may look like per design. 
If you need to adjust your label designs or colors, speed and efficiency allow you to print revised versions quickly. It can significantly reduce your time-to-market compared to using other printing techniques. 
3. Improved flexibility
Digital printing gives businesses greater control over their products, costs, and designs. Variable data printing can also allow personalized printing to target specific customers. 
For instance, in a mail marketing campaign, variable data printing allows businesses to customize messages automatically by changing the digital printer output from a digital database, eliminating manual adjustments. This process saves time and increases efficiency compared to traditional printing methods.
With how beneficial digital printing is for businesses, you can expect more and more are using it to their advantage.
Current Trends of Digital Printing in Packaging 
The digital printing industry continues to evolve and advance. Below are a few digital printing industry trends you must watch out for to keep your operations modernized.
1. Higher demand for sustainable packaging 
Sustainability is a priority for many businesses and consumers who want to slow the effects of climate change and reduce environmental damage. According to McKinsey & Company, 60% to 70% of consumers are willing to spend more for sustainable packaging products.
Digital printing can be highly sustainable. Besides requiring fewer materials than traditional printing, digital printing can be great for the environment because of the inks it uses. 
Moreover, it may use eco-friendly inks made from natural resources, such as algae, water, soy, and vegetables, which don't contain harmful chemicals that can damage the environment. Companies globally have developed eco-friendly inks to produce high-quality prints and minimize their environmental footprint.
2. More integration of smart technology
The printing industry has experienced massive technological innovations, such as using 3D printing and augmented reality (AR) technology to prototype products. More companies are adopting smarter technologies to improve efficiency and reduce waste.
3. Greater emphasis on consumer engagement
Integrating smart technology in digital printing doesn't have to be as grand as installing new 3D printers or developing brand-new AR apps. Digital printers can produce QR codes in printed packaging to engage customers even more.
Imagine customers are shopping for a product at a store, and they want to learn more about it. Scanning the product's QR code can lead customers to a landing page with details on the product's history, manufacturing process, and ingredients. 
The speed of variable data printing also allows businesses to customize their packaging designs per customer. For example, companies that sell wines can easily print custom labels based on the customer's preferences.
4. Increased popularity of digital package printing
Digital printing adoption isn't slowing down any time soon.
Experts forecast that the digital printing packaging market will grow beyond $32 billion by 2028. As technology progresses, it's expected that more and more companies will adopt digital printing, resulting in even faster and more efficient printing processes. 
It could allow for even greater control and customization, enabling businesses to differentiate their brand and products.
Advance Your Business with Digital Printing
As the printing industry evolves, you must follow trends to avoid getting left behind.
Digital printing is a large wave many businesses are riding because it allows them to spend less but print faster and more tailored to their customers' needs. Digital printing trends now prioritize sustainability and innovation to better engage with customers.
Interested in going digital for your printing needs? Work with Intermedia Print Solutions. Contact us to learn how our printing services can help you achieve your business goals.
Frequently Asked Questions
Which printing method is most effective on packaging?
It depends. Material, quantity, and deadline are a few factors that determine the best printing method for you. For instance, digital printing is better for short-run posters, signs, and labels, while offset lithography is better suited for high-volume print jobs on rougher surfaces.
Is digital printing better than offset?
It depends. Digital printing costs less for short runs and prints much faster, shrinking your time-to-market. However, digital printing can be expensive for larger jobs; in this case, offset printing can be better since printing a high volume is cost-effective once its plates are set up.
How has digital technology changed printing?
Digital technology provides businesses with greater control over what they want to print. They can now design, prototype, and print in much less time than traditional printing methods. Digital technologies also allow businesses to create more engaging packaging for their customers.