Go Green. Save 30% on Average. Two-in-One Billing Envelopes.
Get noticed and reduce your impact on the environment with RECOCHET™  two-way envelopes from EcoEnvelopes™. Intermedia Print Solutions, Princeton, New Jersey, brings you one envelope that does the work of two to reduce your costs. They are perfect for consumer communications, billing, statements, direct marketing, fundraising and more.
EcoEnvelopes™ makes envelopes easy to reuse. Simply zip open, insert your response and seal just like a normal envelope.
Save 30% on Mailing Costs on Average
Increase Response Rates
Make a positive impact. Go Green, To eliminate a reply envelope has the potential to take more than 80 billion reply envelopes out of the mail each year. Our envelopes are manufactured exclusively with FSC and SFI certified papers, they contain up to 100% PCW content (post consumer waste) and we use environmentally responsible inks and window films.
EcoEnvelopes™ are US Postal Service approved.
They work with existing high-speed insertion, remittance and postal processing equipment.
Are available in Custom Sizes.
Window Envelopes Our window envelopes are perfect for statement mailings, direct mail, fundraising, surveys, subscriptions, membership renewals and more. They are available in standard and custom sizes in both business reply (BRE) and courtesy reply (CRE) versions.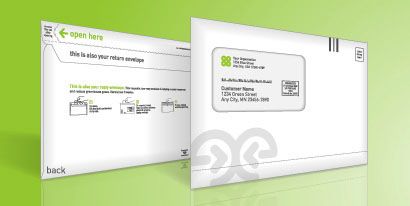 Patch Envelopes
Our unique two-way patch envelopes are novelty solutions that make sending and returning envelopes quick and easy. They are ideal for consumers, small businesses and high-volume mailers. Recipients simply tear off the patch to find a preprinted return address or to add a new address to reuse the envelope. For high-volume mailers and custom orders, two-color printing on the back of the patch is possible, allowing you to add a coupon, customer survey or other promotional/remittance concept.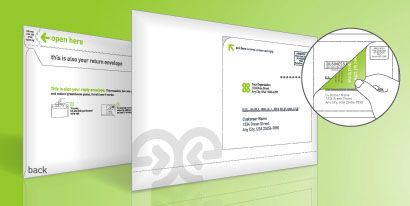 ecoEnvelope Patch Envelope
2-Way ecoIndicia Envelopes
The new 2-way ecoIndicia combines both the outgoing and reply indicia on the face of 2-way envelopes. By moving the indicia to the outer envelope for reply, it creates more space on the mail piece to market products and services.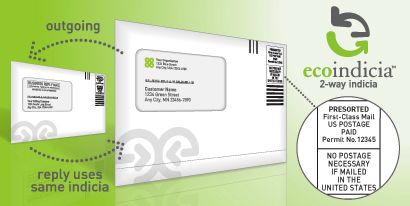 ecoEnvelope 2-Way Indicia