Rigid & Dimensional Signs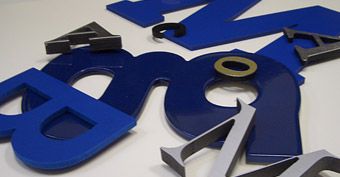 Dimensional Signs The most elegant way to add style and grace to your brand is through dimensional signage. Intermedia Print Solutions will produce top quality dimensional letters and layered signs with your professional image in mind. We bring life to dimensional letters and logos by working with a variety of materials such as foam boards, acrylics, wood, PVC, aluminum, laminated surfaces and so much more.
Acrylic Premium
solid plastic material with superb optical clarity and available in many standard colors with thicknesses of 1/8", 3/16", and 1/4". Specialty versions available with non-glare, black white, and mirror. Great for backlit signs when printed, dimensional letters, and layered signs.
High Density Urethane (HDU)
Textured signs are made by using sand and air pressure to leave behind precise letters or graphics with depth and wooed or pebble textures and fine finish.
Carved signs. These are high-quality signs that can be completed in a short time. They are great for  indoor or outdoor signage and won't fade over time.
PVC
A rigid plastic material with a matte finish that can be printed, laminated, or stocked in standard colors. Comes in thicknesses of 1/8", 1/4", 1/2", and 3/4". PVC material can be sawed, drilled, bent and fabricated using ordinary (plastic) tools and fasteners. PVC is great for dimensional letters, layered signs, and printed signs.
Foam Board
This material has a polystyrene skin on both sides with an expanded polystyrene core. Interior uses include signage, POP displays, and trade show booths. Exterior use should be considered short term.
Metal Mica
An anodized metal material up to .040 inches to achieve Chrome, Mirror, Gold Mirror, Brushed Chrome, Brushed Gold, and most standard colors . This material can be cut for individual letters or laminated to any of the other material to produce a layered effect.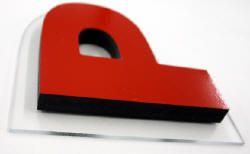 Laminates Utilizing Avery A9 adhesive back vinyl you can achieve virtually any design imaginable on most of the rigid materials available. Specialty designs like gold leaf, carbon fiber, shade shifter, pearlescent, are all obtainable. As a low cost alternative to painting, you can also find most standard colors in stock.