Political Campaign Yard Signs: 7 Tips for Capturing Voters' Attention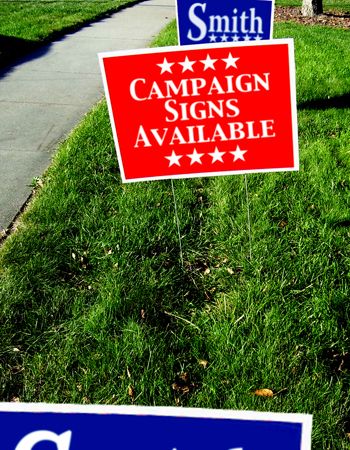 Yard Signs are # 4 on the best election campaign marketing products list for candidates running for any political office. Candidates can have a union bug printed on every political lawn sign that Intermedia Print Solutions prints for anyone in Princeton, or within the borders of New Jersey and beyond. Candidates can choose various sizes and materials for lawn signs from cardboard or corrugate to polybags. You don't have to be a political candidate to have us custom print yard signs. All businesses and event promoters are welcome.
1. Be Early and Maximize Exposure
Research and determine the earliest date your city, town, or district allows signs to be displayed. Learn about any restrictions about where your signage can be posted. Get your volunteers out early to find optimal and numerous locations that will display your signs. Look for high-traffic, high-exposure areas. Maximize your reach through both commercial and residential areas. Order your yard signs as early as possible. Many printers will require 10-21 days to deliver your finished products. However, Intermedia Print Solutions does offer rush services. In many cases, we can produce and deliver political yard signs within five business days.
2. Be Clear and Simplify
You have only four seconds to capture attention. Eliminate clutter in your message and design so it can be read clearly from a distance. At most: Your Name, Headshot, Office, Party, and Slogan. At least: Your Name and Office. Our team at Intermedia Print Solutions can help you design your signs for clarity and maximum impact.
3. Be Bold and CVhoose Color Wisely
Contrasting, vibrant colors are easiest to read from a distance. Avoid muted color combinations like brown on tan, dark green on light green, dark blue on light blue. Color combinations that work best for election campaign signs are red & white, blue & white, green & white, black & white, black & yellow, or red, white, & blue.
4. Be Bold and Choose Fonts Wisely
"Sans serif" fonts are easier to read from a distance. Arial, Helvetica and Bebas are ideal. Never use script fonts, comic sans, or papyrus. They have been overused and they don't read well. Use all uppercase (not upper and lower). Use one or two font styles at most. Use large fonts. A four-inch high letter can be read from 100 feet.
5. Be Graphic!
Well, a better way to say this is "Use graphics wisely." Determine which icons and symbols appeal to your voters. The most obvious options are the Republican elephant and the Democratic donkey, but there may be other options depending on your political platform. Our team can help you design a customized image or help you select from thousands of standard options.
6.Be Strong!
Specifically, select a sign that is durable enough to survive weather elements like wind, snow, rain, and sun exposure during the life of your campaign. The best options are corrugated plastic, poly bag, and polycoated cardboard. Wire stands will help keep your signs in place and make it easy to install and remove without special tools.
7. Be Strategic!
Select a printing company that will work with you as a strategic partner, not just a vendor. A print provider like Intermedia Print Solutions offers a complete range of "whatever you need" printed material and can advise you on the best options for your budget, objectives, and timeline. A complete solutions provider can help you source your yard signs, direct mail postcards, brochures, custom apparel, forms, and more.
Union Bugs Available. Choose from the following:
Yard Signs Made of Corrugated Plastic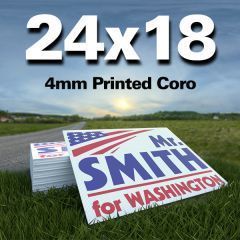 | | | | |
| --- | --- | --- | --- |
| 24x12 White Coro | 24x16 White Coro | 24x18 White Coro | 24x24 White Coro |
| 24x32 White Coro | 24x6 White Coro | 24x96 White Coro | 48x24 White Coro |
| 48x32 White Coro | 48x36 White Coro | 48x48 White Coro | 48x72 White Coro |
| 36x24 White Coro | 24x9 White Coro | 18x12 White Coro | 48x96 White Coro |
Poly Bag Yard Signs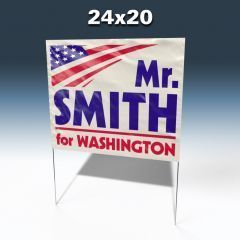 | | | | |
| --- | --- | --- | --- |
| 20x14 Poly Bag | 24x16 Poly Bag | 24x20 Poly Bag | 26x16 Poly Bag |
| 26x20 Poly Bag | 30x20 Poly Bag | 32x20 Poly Bag | |
Polycoated Cardboard
| | | | |
| --- | --- | --- | --- |
| 22x14 Polycoated Cardboard | 28x22 Polycoated Cardboard | 14x11 Polycoated Cardboard | |
Wire Stands
Wire Stands for Yard Signs
Blank Materials
Blank Materials - White or Yellow Coro
Blank Materials Whie & Yellow Coroplast