What Is Digital Label Printing and How Does it Work?
April 10, 2023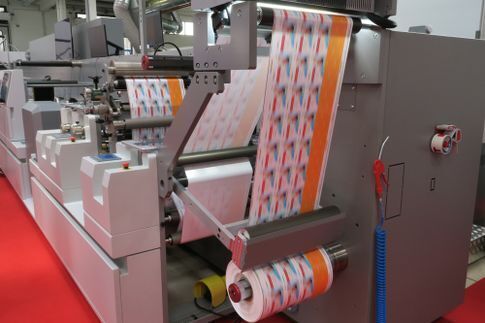 Digital label printing is a relatively recent innovation in the printing world. With its introduction in the 1970s, digital label printing gained popularity as a means of producing high-quality printed goods more quickly and affordably than other types of printing. These days, it has already changed how labels are made and how packaging is done. 
Experts expect digital label printing's market size will increase by over $126 million between 2021 and 2026. 
As technology advances, digital printing has become more sophisticated, allowing for even higher quality and more complex print jobs. Learn what digital label printing is and how it works.
What Is Digital Label Printing?
Digital label printing is a printing method that produces high-quality label products by using computerized programs to extract a design from a digital file. 
Digital label printing doesn't require extensive pre-press preparation or plates. You can send a computer file of the label design you want to make straight to the digital label printing machine, and it can create it immediately.
Digital label printing comes in different types, each with its unique purpose. Here are some unique digital printing options.
Inkjet printing – This label printing method uses ink droplets dispersed through a series of nozzles to imprint texts or images onto materials like paper, plastic, or fabric.
Laser printing – It's a method that uses static electricity to transfer toner onto label printing materials.
Solid ink printing – The ink printing method is a type of digital printing technology that uses solid sticks or blocks of ink instead of liquid ink cartridges.
In today's label production industry, digital label printing has proven invaluable in simplifying the process and making it less expensive to produce products. The following are more benefits of using this printing method.
Faster production time – As mentioned, digital label printing doesn't require plates before production. You can print a draft file immediately after creating it. With little to no preparation needed, you can get your labels faster.
Higher quality output – Digital label printing uses the computerized version of your draft, which means you can expect graphical fidelity and an overall better quality product than traditional printing methods.
Personalization – Through the variable data capabilities of digital label printing, you can create unique labels that feature texts and images.
Versioning – If you offer a product in multiple versions, digital label printing can help you maintain the design while altering aspects such as color that differentiate one offering from the other.
How Does Digital Label Printing Work?
Not as extensive as traditional printing methods, digital label print still abides by specific instructions to ensure quality output. The following is a breakdown of the standard procedure of digital label printing.
1. Preparation of artwork and design
The first step in creating your label design is to use graphic design software to draft the label. When preparing your label, use high-quality images and graphics to ensure a sharp and clear output. Moreover, you should consider size and format based on the product you'll use and the label to provide the highest quality printing. In the event that you'd want to add striking visual enhancements to your digital label, you may choose between incorporating metalized substrates, cold foil, or a digitally-applied embossing effect.
2. Pre-press process
In this step, you prepare the label design's digital file and calibrate certain aspects like color separation and proofing. You can determine if labels that feature a laminate should undergo a die cut or laser cut, according to your or the client's preference.
3. Printing process
Digital label printing is a great way to get your labels quickly and efficiently. The label material goes into the printer, and digital printing technology is used to apply the ink. Printing allows for vibrant and accurate color reproduction, even on complex label designs.
4. Post-press process
Once you're done with the label printing, it's time to ensure all product aspects are correct and aligned with the client's preferences. 
5. Finishing and packaging
The finishing or converting process can include a variety of steps, depending on the specific needs of the digital label. For example, if you're applying a label on a tapered curved surface, you would need to pre-shape or pre-roll it to fit the curve in the design phase.
After you've determined how you'll apply the digital label on the product, next is slitting and rewinding. This finishing process involves cutting the labels into individual units and winding them onto rolls. You inspect the items again for quality control, and then it's ready for packaging, shipment, or delivery.
What Is Digital Label Printing Used For?
Digital label printing is a game-changer for many industries, enabling them to create and customize unique products that fit their vision. Here are some of the most prominent applications of digital label printing.
 1. Product labeling
The world is full of labels. You see them everywhere—on the food and drinks you consume, clothing and other products, and even the things around your home. Most labels have unique logos, different colors, and information printed on them. That's possible thanks to digital label printing.
2. Packaging and branding
Digital label printing provides more customization options, allowing all industries, regardless of service or product, to create packaging that promotes their brand. You can find excellent examples of digital label printing in sectors like the fragrance industry, where you can see details embossed directly on the glass bottle.
3. Custom labeling and personalization 
Personalized labels are no longer a luxury. Today, most customers expect them. With digital label printing, you can create label designs that deviate from standard creations and include different textures, colors, shapes, and sizes that weren't possible when traditional printing was the only option.
4. Promotional labeling
The trend of colorful window stickers that promote brands is gaining popularity today. If you want to create similar promotional material, digital label printing is something to consider for the variety of choices it provides. You can create stickers as small as 1" x 1/2" or 48" x 96 or larger, with options of printing them on durable vinyl, polypropylene, or polyester stocks.
5. Industrial labeling
Digital label printing is used in industrial applications and is one of the more practical uses for these labels. These labels can include identification codes, instructions, and safety warnings.
The Dynamic Uses of Digital Label Printing
Digital label printing is the new standard for labeling. It's revolutionized how industries create labels, expediting the process, providing more customization options, and significantly cutting production time. With more advancements coming out each day, it's safe to say that the digital label printing practice will only improve.
If you're in the packaging or label-making industry, we hope this helps you make a well-informed decision on incorporating digital label printing into your strategies.
If you need a reliable printing solutions partner, look no further than Intermedia Print Solutions. For more than 40 years, IPS has been committed to offering premium printing goods and services at competitive costs. For more inquiries, contact us now!