Why HR and Marketing Teams Need a Great Printing Partner
September 12 , 2022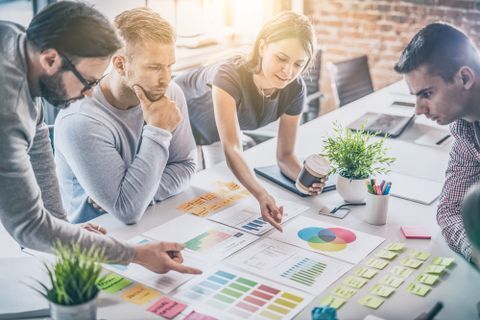 Print marketing materials such as brochures, flyers, posters, and magazines still prove to be helpful to many businesses in the digital age. A 2020 study showed that branding is 185% stronger in print advertising than digital advertising. Print ads are also 141% easier to understand than digital ads.
For these reasons, marketing and human resource teams set specific printing standards to accomplish their respective goals. However, the problem lies in finding a great printing partner. Building a solid and lasting relationship when you find one is essential because they can turn your ideas into reality and meet your multiple demands on time and with consistent quality. 
6 Benefits of Having a Reliable Printing Partner

 
Here are more reasons why working with an excellent printing services provider is essential to your business' success.
1. Capable of meeting your unique marketing or HR needs
The difference between a dedicated printing partner and an individual printing supplier is that the former can fully dedicate their time and resources to meet your needs in the long run. Meanwhile, the latter may only be focused on getting your printed materials out the door.



Working with a dedicated printing partner also means coordinating with a team that already knows your business and understands the message you want to convey. They can help you become more efficient with your marketing and HR needs and provide expert advice on improving your materials.

 
2. Consistent quality
While the printing materials and equipment may be similar for many printing companies, a dedicated printing services provider exerts more effort to achieve your desired quality for every project. They can also guide you in choosing which materials and formats suit your needs.



For example, if your organization regularly hosts seminars and conferences, the right partner can help you print, cut, and fold matte brochures for every event. If you're an HR professional recruiting new talents, a reliable printing partner can also help you produce glossy flyers that you can distribute in universities and job fairs.

 
3. Best price and reduced cost
Some companies prioritize price over quality and choose printing partners that offer cheap services. They fail to realize that doing so is more expensive as low-cost services sometimes lead to low-quality marketing materials, making them spend more just to get their collateral right.



A dedicated partner for marketing collateral printing can customize product and service packages based on your budget and needs. Sometimes, they can also provide discounts and exclusive deals for special or big orders. These give you a bang for your buck and even help you allocate more funds to your other marketing and HR efforts.
4. Faster turnaround time
Time efficiency is crucial in every business. If you plan to launch a new product or program, you'd want to reach your target audience as soon as possible. However, you may experience delays and lose hundreds and thousands of dollars without a printing partner you can contact anytime.



A dedicated printing partner who can meet deadlines and quickly accommodate requests can help you achieve your marketing and HR goals on time. They can also guarantee printing lead times that fit your timeline, allowing you to execute your strategies and prepare for potential challenges in the pipeline.

 
5. Access to various printing solutions
As new, unique marketing tactics emerge, so do new printing techniques and equipment. The right printing partner can give you access to these new solutions to make your marketing and HR materials stand out and give your brand a more professional and modern look.



Similarly, the right printing services provider can produce print materials such as bulk-printed brochures, catalogs, posters, banners, billboards and even branded promotional merchandise to support marketing and advertising efforts.
These can be useful as your business grows, and you need as many valuable print materials as possible to convey your message.

 
6. Trust and confidence
Partnering with a professional printing company can ultimately increase your confidence as a business. Think of them as one person in an assembly line; if their post is left vacant, your operations won't run as efficiently as you want.



The right printing partner can give you definite price quotes, timelines, and outputs. A printing services provider that's also transparent and accountable can help you easily resolve issues in no time and at a low cost. 
Prime for Success with a Professional Printing Partner
Having printing partners is essential when running a business. Not only can a dedicated and reliable one help you reach your business goals, but it can also increase your brand awareness and recall. It pays to invest in a professional printing partner if you can get rewarded for it tenfold.
If your marketing and HR materials are ready for printing, professionals from Intermedia Print Solutions can accommodate your needs. We are a printing company in New Jersey that offers products and services ranging from direct mail and marketing materials to product packaging. All of these can help your business achieve its goals and succeed in the long run.