Signage & Wall Graphics Printing & Installation
Wall Graphics Installation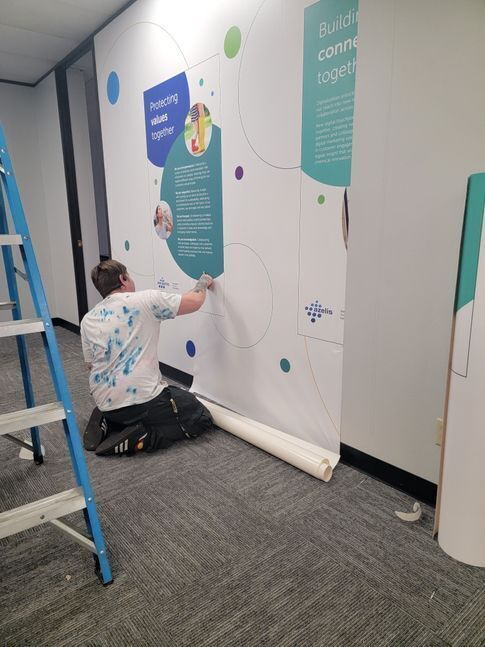 You might think that any large format printer in Princeton, South Brunswick, or Central New Jersey can handle your wall graphics printing and installation. But if you want stellar wall graphics installation and printing, Intermedia Print Solutions is your only true option in Princeton, New Jersey. With years of collective experience behind us, we are masters of custom wall decals, murals and stickers printing and installation. Yes, we are local, but our expert team travels to office parks as far away as Garland, Texas, and Leominster, Massachusetts.
We install and provide custom printed murals in many environments
Retail Environments
Office Walls
Lobby, Conference Rooms, Private Offices, Residential
Murals for Accent Walls, Brick Walls, Cinder Block Walls
Mall Barricades
Picture Hanging
From Google Reviews: "We used Intermedia Print Solutions to print two large murals for a client. We were thinking we'd have to get two people to do the job due to the location, but they were not only able to make it work, but gone it done fast and recommended great options for these large scale wall murals. The client and team loved them. We were so happy with the people, job and final product. We will be using them again for projects like this and in the NJ area."
ADA COMPLIANT SIGNAGE
Let us be your experts on the requirements of signing your locations for the Americans with Disabilities Act. ADA provides those with special needs, access to public places. We've studied the law and have determined that, in certain instances, signs alone can bring you closer to compliance. Other times the law may require modifications to your physical plant.
ARCHITECTURAL FILMS INSTALLATION
DiNoc, Belbian, 3M™ FASARA™, Decorative Films®
Tables, Desks, Cabinets, Furniture, Music Instruments
BANNER INSTALLATION
DIMENSIONAL LETTERING INSTALLATION
3D
Channel
Pin Mounted
Standoff Mounts
3D Printed Signs - Additive Manufacturing
FLOOR GRAPHICS INSTALLATION
Floor Safety Decals
Weddings
Entertainment & Special Events
Schools
Custom Dance Floor Wraps
ILLUMINATED SIGN INSTALLATION
VEHICLE WRAPS INSTALLATION
Full commercial wraps 
Buses, Trucks, Trailers, Partial 
Color change wraps 
Watercraft wraps
WINDOW GRAPHICS INSTALLATION
Storefront, Office Glass 
Safety film, Privacy Film,
Etched, Frosted,  Tinted, Static Cling
FASARA™
Ready to get your next project started?
Contact us online or give us a call.