QR Codes on Product Packaging: A Smart Guide
October 11, 2022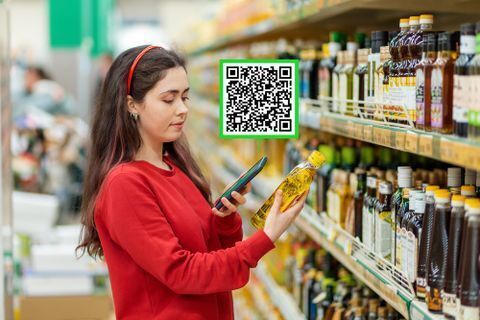 QR codes have become an everyday part of modern life. From financial transactions to interactive marketing, QR codes are everywhere across New Jersey and beyond. However, did you know they can also be a good addition to product packaging? You can make your product stand out by using QR codes.
A type of matrix barcode, QR codes are an excellent way to bring your brand directly into consumers' homes without relying on traditional advertising methods like billboards and commercials. They're portable and easy to use, allowing customers to access them anywhere.
Advantages of QR Codes on Packaging
QR codes allow you to track how people interact with your business and what they're interested in. You can see whether or not customers have scanned a product's QR code. 
Do customers scan your best-selling  products most often? Have they been scanning an unpopular product lately? You can use this information to help you with the decision-making process for your sales strategy. 
QR codes can be interactive
With a normal text-based URL, you're limited to a single piece of content—the text on your website. With a QR code, though, you can make your links interactive and direct.  
For example, if you have a store anywhere in New Jersey that sells clothing, you could include a QR code on each item of clothing so that when someone scans it with their phone, they're taken straight to the product page for that item. It also saves the customers' time as they don't have to type a text-based URL.
QR codes can enable a cost-effective marketing campaign
You can create a cost-effective marketing campaign using QR codes. Your products can have codes that lead to post-purchase customer engagement, serve as a digital business card, and let customers follow your social media profile.  
It's much cheaper than having someone create an image for you, as some costs and processes entail this type of campaign. You'd have to go through the hiring and follow-ups on the deliverables the person will have to complete. With QR codes, you'll also save time. And in business, time is money. 
QR codes can provide gifts
QR codes are an avenue to give your customers something they didn't expect. You can use them to provide coupons or to offer an exclusive deal on your website.
Why Use QR Codes on Product Packaging
QR codes can provide product information 
QR codes allow users to get all the relevant information about a product, whether it's ingredients, nutritional content, price, or other details. You can put all your extensive product information in a QR code and let customers easily access it without overloading the text in your packaging. 
QR codes can boost social media reach
When businesses include QR codes on their product packaging, they can encourage consumers to share photos of their products on social media. A quick QR code scan can take them to your social media profile and prompt them to follow. Companies can gain visibility among a wider audience and attract new customers.
QR codes can provide a multilingual guide
One language in product packaging can't suffice for an international product. It's essential to ensure that global consumers understand how to use your goods. With QR codes, you can easily provide multilingual guides for your non-native language customers. 
QR codes can access supplemental media 
QR codes can let customers access landing pages and videos for additional information, such as warranty information, how-to installation guides, complementary products and services, newsletter sign-ups, and user testimonials. 
How to Create QR Codes on Product Packaging
Visit a QR code generator website
Creating a QR code on product packaging is a fairly straightforward process. First, you'll need to visit a QR code generator website. Many sites allow you to upload an image or text of your choice and generate a QR code.
Choose the kind of QR code you want for your product packaging
There are two kinds of QR codes: static and dynamic. Static QR codes contain a link and can't be edited. Dynamic codes offer more possibilities because they can include more information and allow you to edit the code in real-time.
Scan test your QR code once generated
You want to ensure that everything is properly functioning since you'll send out these codes publicly. The last thing you want is for people to be unable to access your code's contents, leading to a decrease in sales.
A Simple Solution in a High-Tech World
There's no doubt how important QR codes on packaging have become. Businesses have thrived using them, and with technology's constant evolution, they'll remain an effective tool for many companies. 
The goal is to attract customers through an effective yet simple process that will immediately grab their attention, give them what they want, and lead them to the desired product/service. 

If you're looking for a printing company in New Jersey that can help you apply QR codes in your packaging, Intermedia Print Solutions has you covered, offering several printing options and product packaging for startups.