Complete Visitor Management: Visitor Badges, Passes, Labels, Self Expiring Products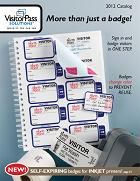 Who is authorized to be in your facility, and who is not? Whether you sign people in by hand or by computer, Visitor Pass Solutions improve how you identify and track your visitors – securely, efficiently, and affordably. They're made in the U.S.A., with satisfaction 100% guaranteed, by Data Management, Inc., a privately-owned manufacturer of innovative printed products now celebrating its 50th anniversary.
This compact book creates a temporary visitor BADGE and a permanent visitor LOG — all at the same time! It's a badge and log book ALL IN ONE!
Badges change color to prevent reuse, do not need to be collected. Available in Manual, Direct Thermal, or Inkjet.
Direct Thermal and Inkjet badges for those who already have an electronic Visitor Management System.
Other ways to manage visitor traffic, and then some:
Tardy Slips/Early Dismissal Slips, Visitor Pass Accessories, Tyvek Wristbands, Expiring Dot Sets, Products in Development, and more.
Markets Served: Schools, Hospitals, Government Agencies
Every school wants to keep its students safe, but it can be challenging to keep track of each parent, visitor, or maintenance worker who enters the building. Our Visitor Pass Solutions are designed to streamline the visitor management process, relieving much of the stress of secretarial jobs. The best part? The added security of our visitor ID stickers and log books helps keep every child safe. And at an affordable price, our Visitor Pass Solutions will fit just as easily into your budget as they will into your daily routine.